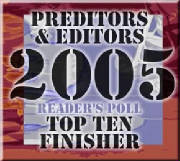 Top Ten Winner for Artwork in the Preditors and Editors 2005 Voting Polls
The Rock of Realm
written by Lea Schizas
As a writer and avid reader, I found Rock of Realm, a fantasy for young adults, to be a creative treat. As I read the story, I could only imagine how intrigued a young adult reader would be by the quest, the characters, the creatures, and the magic.
The adventure begins when fourteen-year-old Alexandra, her best friend, Sarah, her German Shepard, Butch, and her pet squirrel, Pops, take a short cut home through Greendale Park. Magically, they are transported to a parallel world. Rock Kingdom is inhabited by talking trees, a six-legged hamster named Jinx, who becomes the foursome's guide, primary characters named Larok and Dread, strange skeletal creatures called Braks, who drip slime, and other magical beings and entities. How delightful!
Alexandra discovers early on that she is Princess of the Realm and, soon thereafter, that Dread, King of the Realm, is to be avoided. The group is told by Larok, a loyal subject of the Queen, that they must find their way to the Majesty Chamber within the Kingdom in order to return home. Well, it turns out to be easy for Larok to say. The journey to the Chamber is filled with an imaginative series of daunting encounters, tests of friendship, courage, and endurance, and liberal and wonderful sprinklings of magic.
The pace of the story accelerates nicely as the finale approaches. The author provides just the right amount of description; neither too sparse leaving questions, nor too involved slowing the pace. Lea Schizas weaves an enchanting adventure with sufficient twists and turns to keep a reader moving on to the next page.
*GREAT RE

AD